A Real Life Miracle
The Story of William Farmer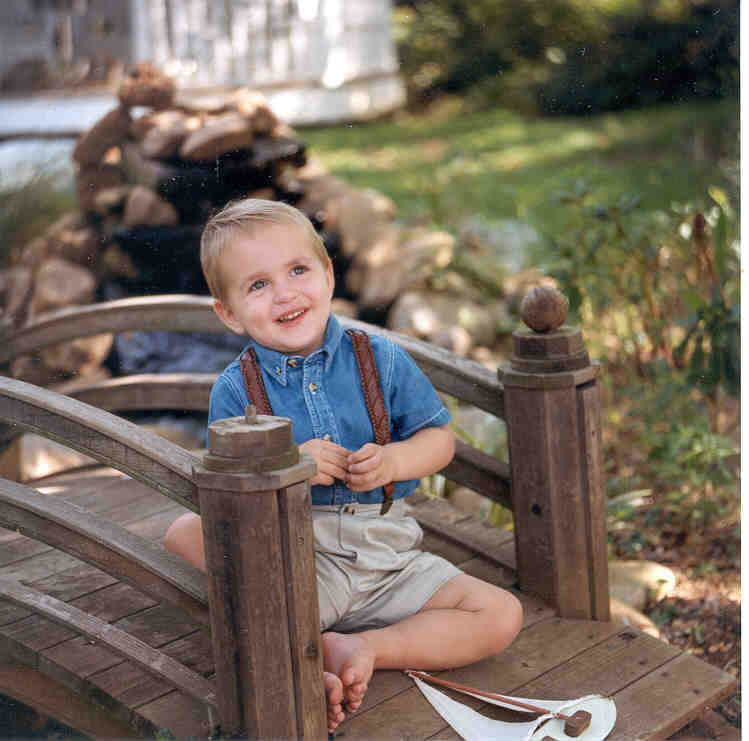 Whoever said your darkest and most difficult times can be a place of opportunities and spiritual growth certainly walked in our shoes. We never expected when William was 19 months old that medical professionals would be talking to my husband Greg and me about "Quality of Life Issues" for our son. Up until 18 months old he was a typical health child. Little did we know that he would soon loose the ability to walk, talk and had feeding problems all due to an undiagnosed metabolic disorder. We later learned this was unnecessary and could have been prevented if the State of Georgia required a test for this disorder in the Newborn Screening law.
At 18 months old we started noticing that William's friends were getting more coordinated and agile. We attributed this to his regular ear infections affecting his balance. When we shared this concern with friends and family, almost all had a story of William's balance problems. Then we noticed his regular labored breathing. Initially, we thought this to an active toddler trying to catch his breath. Certainly we were out of breath when chasing him through the house!
His condition progressed to the point of having periodic tremors and frequent hospitalizations to determine why his condition was slowly deteriorating. We learned that William may have a mitochondrial disease and the diagnosis for this disease is done through a muscle biopsy.
It was finally hitting home to all of the family; he has a neurodegenerative disease that is essentially untreatable. After returning home from the hospital, my husband Greg and I did not notice any significant difference in our son's breathing rate but we were thankful that William was now under the care of a Pulmonologist. We learned that during each hospital stay the Doctors were releasing William because he was stable not because they understood and could treat his problems. We were sent home a few days after Christmas with no diagnosis and William's condition was rapidly deteriorating.
Within a few weeks of leaving the hospital he could no longer sit up. He was awake for no more than two hours a day and when he was awake he required special seating that prevented him from "flopping forward". These were the most difficult days of all. We waited and prayed, researched, called everyone we knew that could help us and we screamed a lot. We began researching the possibility of placing William in a Clinical Drug Study. My hope was that we could stabilize his condition giving medical science time to catch up, in hopes that there would one day be a treatment for his condition. We helplessly watched our son's condition deteriorate as he was hospitalized off and on after Christmas.
Then the MIRACLE HAPPENED…we received a call from William's Neurologist a few weeks after William's 2nd Birthday. He told us that one of the blood tests he ordered for our son showed he has a rare condition called Biotinidase Deficiency and it is treatable and curable. It was an out of body experience when I heard the Neurologist excitedly saying through the phone "..you've got your boy back…" At this point this was more than we had ever dreamed of for our son and it brought Greg and I to tears. Within days of taking the vitamin Biotin we saw significant improvement in William's cognitive abilities; it was as if the fog was being lifted. We also saw his physical ability begin to come back. It has been a few months since William has been taking large doses of the vitamin and he is walking and talking. His four therapists he sees for one hour every week tell us he is now approximately 6 months developmentally delayed and they expect him to learn quickly because he is so social (teachable).
The love and support we received from all over the community was overwhelming and often brought my husband and I to tears. It was the help that we received that kept us going every day to deal with the many challenges. Some of the many sources of help we received include the medical community, family, friends, neighbors, churches, co-workers, social workers, therapists, doctors, insurance company employees, Babies Can't Wait and FOCUS.
This experience taught our family endless life long lessons and our son has a wonderful story to hear the rest of his life. We no longer live the stressed out high paced lives in the working world that we used to and we have learned to cherish the little things.
Note: Biotinidase deficiency is included in the newborn screening programs for several states and countries but NOT for the state of Georgia but is tested for in 22 US States. A simple 15 cent blood test could have prevented all the suffering and over $100,00 in medical bills. With the support of our community, our family plans to work with the State government to make this part of the newborn screening in Georgia so no one else has to go through what our child did. One in 50,000 babies are born with this deficiency. Some of the clinical symptoms include feeding problems, breathing abnormalities, hypotonia (low muscle tone), seizures, lethargy; all could possibly lead to coma and death. It is a disorder that is inherited and my husband and I are both recessive carriers. If you want to learn more about this disorder please contact a Neurologist, Geneticist or me at glw3farms@aol.com. I can give you a parent's perspective. We feel lucky that the cause of his condition was discovered and we thank God for every day. Additionally, our family would like to thank William's specialists for their constant searching and consulting each other to diagnose William; Pulmonologist, Dr. Alan Cohen; and Neurologists Drs. Berenson and Flamini.